Be on your journey to a more secure business in minutes.
Summary of benefits
Web-based business app
Secure as standard
Ready when you are
Our beautiful software delivers unique content.
Non-technical
Clear, clean and intuitive interface. No training is required to use the service.
Ready, set, go!
Web-based software means you can be up and running in just a few minutes.
Regularly updated
You'll receive the latest updates automatically, available when you log in.
Certification? Sorted.
Remembers your responses to simplify the annual recertification process.
Web-based business app
Nothing to download, install, or configure.

No downloads required.
Nothing to install.
Works across devices.
Secure infrastructure.
Regularly updated.
All updates automatically.
Clear development roadmap.
Support team on-hand.
Records audit trail of activity.
Reminders when activities fall due.
Smart compliance mapping.
And much more.
Secure architecture
Built by a team who understand and use the latest security technologies.
A+ rated security through TLS encryption.
Strong investment in security technology.
Industry approved architecture.
Reliable whilst being highly distributed.
Latest best practice on abstraction of public access from server processing.
We only use ISO 27001:2013 and PCI-DSS approved cloud hosting providers.
Cyber Essentials certified. Naturally.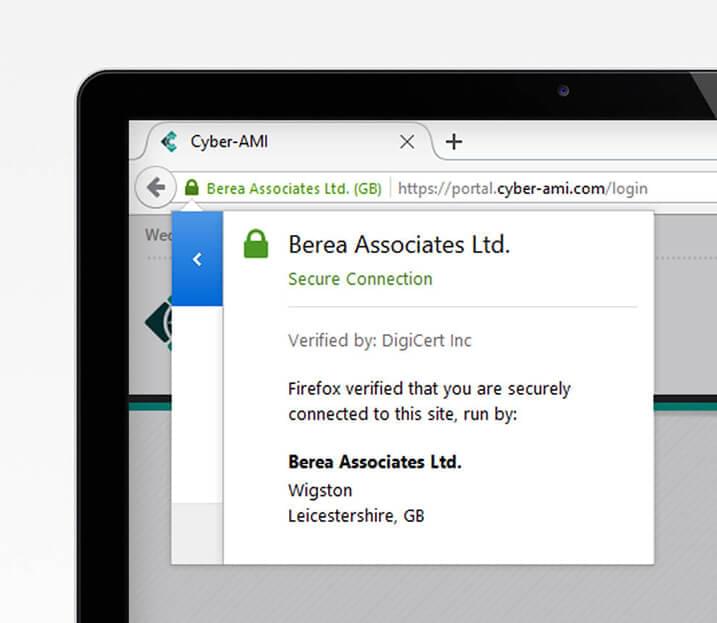 Improve your business's cybersecurity practices
Web-based self-assessment and education. Achieve and maintain compliance with the UK Government's Cyber Essentials scheme, without the expense of a consultant.
Cyber AMI makes this complex topic approachable, friendly and manageable.
Nathan Harris, IT Manager, Qdos Group