Self-assessment and education
Our unique process produces bite-sized modules that will help you test and understand your policy and procedures.
Simplifying key cyber topics
Unique process for the layman
Self-assessment and education
Cyber Essentials benchmark
Simplifying key cybersecurity topics
Cyber AMI will help you manage important risk management controls that will reduce your business's vulnerability to cyber-attacks. This includes:
Securing your Internet connection
Securing your devices and software
Controlling access to your data and services
Protecting from viruses and other malware
Keeping your devices and software up to date
Evidencing your security activities
These topics are defined by the UK Government's Cyber Essentials scheme as important to reduce common business threats.
Informed at every step
Our unique process takes the hassle out of improving policy and process that govern your risk management activity.
Intuitive plain English
Topics are broken apart in to easy, incremental questions, and reinforced with expert advice on the task at hand.
Expert process
You will build, verify, and strengthen your policies and processes in a logical and considered manner.
Your own pace
Our unique, modular content helps you progress at your own pace through defined bite-sized tasks.
Right place, right time
You'll be given expert knowledge in each task to understand what is being accomplished, and why.
Better together
Expert knowledge dovetailed with logical self-assessment, designed specifically for non-technical individuals.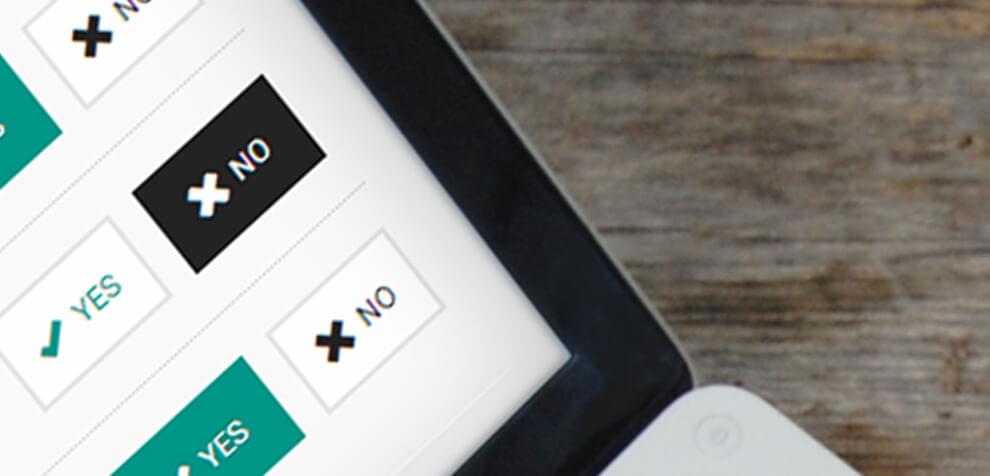 Self assessment
Refreshingly plain English for non-technical individuals.
Logical checklists to test business policies and processes.
No policy? No problem. You'll build as you progress.
Verify your working practices against Cyber Essentials.
Responses 'build up' to create evidence for certification.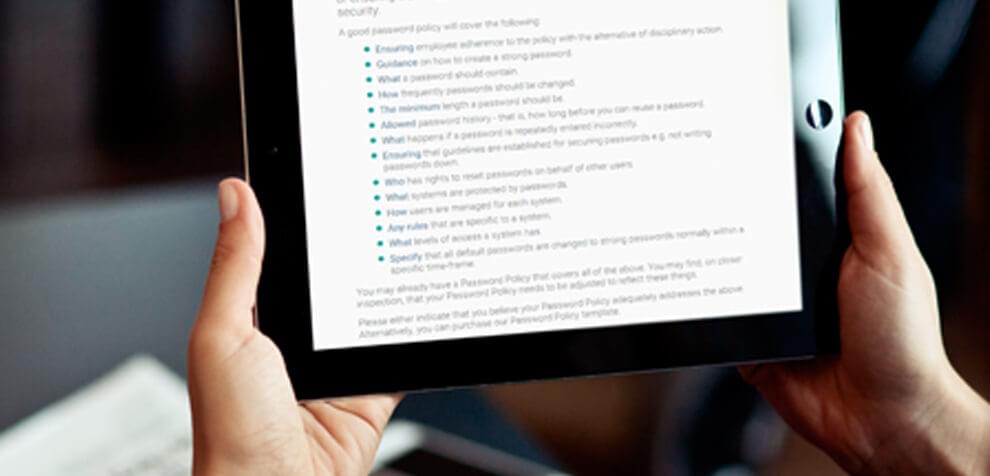 Education
Problems are easier to tackle when they're understood.
Relevant knowledge to understand the tasks at hand.
Obtain clearer insights for better decision making.
Improve competence with Information Security topics.
Give you expert support, without the cost.
Roadmap to improving cybersecurity
No experience needed
Education to understand risks
Identify and fix your blind spots
Gain access to HR policy templates
Save £££ over using a consultant
The Cyber Essentials scheme
Most cyber-attacks exploit basic vulnerabilities in IT systems and software. Cyber Essentials is designed to stop this.
The Cyber Essentials scheme is a cyber risk management specification for businesses, created by UK Government.
UK Government state that compliance with Cyber Essentials can reduce your risk of threats from the Internet by 70-80%.
As such, Cyber Essentials is widely considered the minimum benchmark for cybersecurity in a business.
Your business can obtain an official Cyber Essentials certificate* to demonstrate activity and compliance.
Supportive in working towards the Information Security requirements of the General Data Protection Regulation (GDPR).
A Cyber Essentials certificate is required to tender for a growing number of public and private sector contracts.
*Certificate is renewed annually. Cyber AMI will prepare your application form for you.
Improve your business's cybersecurity practices
Web-based self-assessment and education. Achieve and maintain compliance with the UK Government's Cyber Essentials scheme, without the expense of a consultant.
We recognise that Cyber AMI properly prepares a business for Cyber Essentials certification.
Cary Hendricks, Global Operations Director, ID Cyber Solutions